This wiki houses info about the light novel series Ro-Kyu-Bu! as well as the anime it inspired. Everyone is welcome to make positive contributions here... this means you! Please refer to the "Helping Out" section below for more info.

---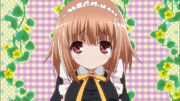 Airi Kashii
is one the members of the girl's basketball team and her position is center. She is very tall and endowed for her age and is the oldest of the girls. She is very self-conscious of her height and bursts into tears when someone mentions it. She is the shyest of the group.
Read More >
---
Ro-Kyu-Bu! SS opening sequence

---
We are currently housing
158
articles, and
741
files.
We need YOU to help us expand and add articles to this wiki!

For starters, sign up to create a personal account, or log in if you already have one.
---
---
If you're new to Wikia, please use the above links to get started. If you already have editing experience, and you have an article relating to Ro-Kyu-Bu! to contribute, use the box below to create it:
If you're looking to help with cleanup, you can start here:
---
---
Check out the
community portal
to see what the community is working on, to give feedback,
or just to say hi.

---

Create blog post
Refresh
"难得的周末,为啥我非得形单影只地一个人出来逛?"游乐场的餐厅,一个和昴年纪相仿的、靛色虹膜和靛色长马尾的女生正在一边嘬饮料杯的吸管一边长吁短叹。"而且还碰到你们两个!"她看向附近的桌子,表情从挫败变成厌恶。这位是长谷川昴的发小萩山葵,和昴从小学到高中都同班,然而他们的关系也就仅限于此了。

"别自怨自艾了,你其实是有男人的。""我们才惨!从出生到现在牵过手的男性只限于自己的爸爸……"被萩山葵用厌恶…

Read more >

日向躺在地板上,右手腕被蓝田未有的左手死死摁住,左手则牢牢抓住蓝田未有的右手腕——因为她的右手持有一支装满药液的注射器。双方僵持着,突然日向屈腿,用膝盖猛击蓝田未有的小腹——都说猫科动物都是"铜头铁尾麻杆腰",其实人科动物的腰腹也是弱点——因为头骨形成天然头盔、胸腔有胸骨和肋骨保护心肺,唯独装载着肝、脾、胆、胃、肠、肾等重要器官的腹腔没有自带的防御机制。突袭对方小腹的同一瞬间日向还发动硬脑壳技能…

Read more >

"完成了,睁开眼睛吧。"昴将梳子放回梳妆台。

日向睁开双眼看着梳妆镜,同一瞬间发出惊喜的声音——昴将她的长发梳成了双长辫,分别用一个精美的蝴蝶发饰固定好。

"循香而来的蝴蝶落在小日向的头上。"昴一脸满足和得意:"猫咪公主变成了蝴蝶公主。"

"好棒……日向好喜欢!"日向转身扑进昴的怀里。

"明天就用这个发型和发饰怎么样?"

"噢——!没问题!"

"很好。"日向仔细端详整齐地安排着五彩斑斓的食物的午餐盒,点点头…

Read more >
See more >

---

Refresh
See more >
Loading RSS data...

---
Have you seen Ro-Kyu-Bu! SS yet? How did you like it?
See more >
Community content is available under
CC-BY-SA
unless otherwise noted.