Ogasawara

Name in Japanese
小笠原
Romaji Translation
Ogasawara
Nickname/s
Kamakiri
Mantis
Voice Actor (Japanese)
Ryou Iwasaki
Voice Actor (English)
Benjamin Diskin
Personal Info
Gender
Male
Media Appearances
Anime Debut
A Pass Towards Tomorrow

Ogasawara (小笠原, Ogasawara?) is the coach of the Keishin boys basketball team. He and Subaru's aunt don't get along very well.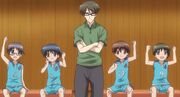 Mihoshi calls him Kamakiri (カマキリ, Mantis), but he hates that name.